Remote Controls
These are just some of our available remote controls. Contact us, and we will be happy to help you find the right fit for your company.
Our remote controls are compatible with every LCD and CRT television available in the US. and are suitable for use in the hospitality industry or in office environments.
They offer one step programming or code specific programming. (Features one button setup, Menu Buttons, Channel Guide, Channel U/Down, Volume Up/Down, Mute, Closed Captioning, Previous Channel, Direct Channel Search, and Auto Channel Setup.) All programming codes and instructions are conveniently posted on our Support page.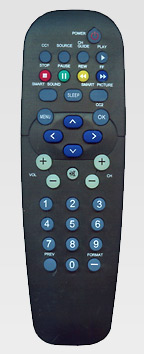 Raised Button Remote