Illuminate. Source. Innovate.
We specialize in creating custom lighting solutions within the hospitality industry, while also sourcing and developing innovative products.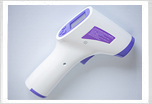 Digital Thermometers
We've readied a supply of No Touch Infared Digital Thermometers to meet the needs of your business during the COVID Pandemic Response. See Product Details for additional information and Contact Us for pricing packages.

Synergy Global Supply provides custom lighting solutions for the hospitality industry, while also being a diversified supply company offering competitive pricing and a broad product selection.
For clients with unique needs, we offer innovative product development, using the latest technologies and a proven global production network.