PureRemote
The First remote with antibacterial protection
Cleanest Remote on the Market — Smooth Surface Design

Model RAP-1-UPS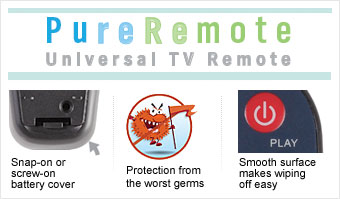 Advanced protection against dirt and germs.
Want to promote safety and cleanliness for your business? Need protection on while travelling on the road, or at your own home? Do you know the TV remote control is one of the dirtiest items you handle? Never worry about handling germs on a remote again.
PureRemote carries an Aegis Antimicrobial treatment effective in protecting against even the worst germs and bacteria that cause infectious disease. Suitable for hotels, nursing homes, hospitals or your own home, this Universal TV Remote will operate over 250 televisions while delivering advanced protection. The flat, non porous surface is also easy to clean, leaving nowhere for dirt and grime to hide.
> Product information (PDF)
> Learn about the technology (flash video)
> Setup and Programming Codes (PDF)